Thursday, January 12th | 1:15-2:00pm CT | Truhlsen Event Center, UNMC
Session Type: Digital Poster Session
Project Tools Used:
Hardware
1.       Mac Book Air – built in iSight Camera
2.       Icicle from BlueMic.com  (USB to XLR converter)
3.       XLR Mic – similar to classroom podium mics
Software
1.       iBook Author
2.       iMovie
3.       Built in screen capture utility (Command, Shift, and 4)
Project Summary:  The use of web conferencing software for distance learning, remote participation in meetings, global collaboration, providing telehealth is pushing traditional hardware solutions aside. UNMC Video Services has strategically deployed the software called Vidyo to support these needs. With software versions frequently changing, print documentation becomes outdated very quickly. The iBook can be updated and "pushed" to users within a matter of minutes.
To support a wide variety of users at global locations, I have been developing a digital training guide to support users. While face to face orientations or training are always preferred, a digital training guide provides greater flexibility for just-in-time learning.  Specific multimedia objects embedded into the pages enhance the viewing experience beyond plain text or still images. Videos are specific to UNMC use detailing exactly what our users will see and hear vs. a generalized company's product manual. Standard operating procedures, processes and best practices for use will be included.
Note: This project is not finalized. After the initial release, it will continue to be a work in progress as the software developers increase functionality to UNMC users.
Speaker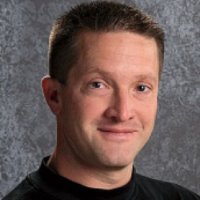 Mike Kozak, MEd
Information Technology Services