Thursday, January 12th | 1:15-2:00pm CT | Truhlsen Event Center, UNMC
Session Type: Digital Poster Session
Project Tools Used: Apple iBook Author
Project Summary:  Since dentists in clinical practice will encounter a periapical radiolucency as the most common sequela of dental caries, they may not necessarily consider alternative diagnoses. The treatment for inflammatory periapical lesions include endodontic therapy including apicocetomy. A variety of odontogenic and non-odontogenic lesions can present as a periapical radiolucency requiring different management options. The dental literature indicates two to five percent of periapical radiolucencies are histologically diagnosed as non-endodontic pathologies requiring different management options.
This project is intended, in an interactive format, to alert dental students and graduate dentists to the complexities of periapical pathology. The case studies will demonstrate similarities in the clinical presentation and radiographic features of various periapical pathologies showing the importance of diagnostic testing including biopsy for final diagnosis.
This project will better prepare dentists in establishing a precise diagnosis, management and prognosis for a patient that presents with a periapical radiolucency preventing unnecessary endodontic therapies. This online assessment tool, consisting of multiple choice questions, is designed to give constructive feedback and develop a better-prepared health care professional aligning with the goal of the UNMC digital campus.
Speaker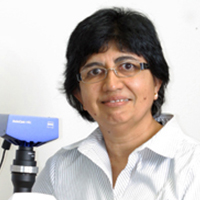 Nagamani Narayana DMD, MS. Department of Oral Biology,
College of Dentistry