Thursday, January 12th | 11:00-11:45am CT, 1:15-2:00pm CT | Truhlsen Event Center, UNMC
Session Type: Digital Poster Session
Project Tools Used: Mobile Device Management (MDM)

Project Summary: Mobile Device Management (MDM) is a new tool to UNMC. It will allow ITS to better deploy, manage hardware and apps, inventory and through Self-Service allow users help themselves. In addition to all that MDM offers a level of security protecting the enterprise and individuals from costly data loss.
During the last 6 months, a lot of learning and testing has allowed me to explore how this technology can be used to improve employees work efficiency, distribution of student materials and clinical staff to be more responsive to patients all while improving security on mobile devices.
Let's break down each of the MDM categories from above and see how they are making UNMC and Nebraska Medicine a better place to work and learn.
Deploy: Zero-Touch
By far the easiest and most efficient way to deploy your devices is with Jamf Pro and Apple's Device Enrollment Program (DEP). Automatically enroll and configure new devices without requiring hands-on support from IT. Go from new-in-box to ready-to-use without time-consuming imaging or manual configuration.
Manage hardware:
Using configuration profiles, policies and smart groups UNMC can target devices to apply Wi-Fi and email settings. Identify devices that require updates and manage lease agreements.
Manage apps:
UNMC can purchase apps using Apple's Volume Purchase Program (VPP) for distribution to faculty and student devices and then re-assign licenses as needs change.
Inventory:
Automatically collect user, hardware, software and security device data or customize inventory specifications with extension attributes, such as the output of a script or the status of a third-party app
Self-Service
Better access, speed and availability make for a stronger end-user experience. Taking the app catalog to a whole new level, Jamf Self Service empowers end users with instant access to resources, content and trusted apps through a single click – no help desk tickets needed.
Security:
Security and privacy concerns are real. Proactively combat breaches and vulnerabilities throughout UNMC and Nebraska Medicine – all while maintaining user privacy and the user experience. Using Apple encryption, management commands, automated patching and more, Jamf Pro protects company and user data, so you can mitigate risks and alleviate security concerns.
Speaker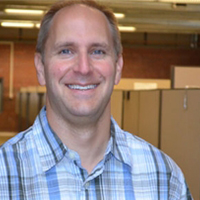 Mike Dierks, MS
Information Technology Services