Thursday, January 12th | 11:00-11:45am CT | Truhlsen Event Center, UNMC
Session Type: Digital Poster Session
Project Tools Used:
Hardware
1.       Mac Book Air – built in iSight Camera
2.       Icicle from BlueMic.com  (USB to XLR converter)
3.       XLR Mic – similar to classroom podium mics
Software
1.       iMovie
2.       Aurasma app
Project Summary:  Accelerating Access: Health Science Education in Native American Communities funded by a grant from the National Institutes of Health, Science Education Partnership Award http://www.unmc.edu/sepa
This grant project is a partnership between the University of Nebraska Medical Center's Munroe-Meyer Institute (UNMC), the Great Plains Area Tribal Chairmen's Health Board (GPTCHB), and K-12 Schools in Nebraska and South Dakota. The scope of the SEPA program is to support the development and evaluation of model biomedical science partnerships that focus on health-related sciences. The purpose of this program is to encourage partnerships between biomedical scientists, science educators, and community leaders that improve K-12 student and public understanding of the health sciences.
Students were asked to create a video that focused on their demonstration of a particular mathematical topic. Video contest guidelines are posted at http://www.unmc.edu/mmi/education/sepa/video-contest.html.
UNMC SEPA staff challenge: How to roll-out this contest in an innovative and engaging way so student participation would be high levels? Augmented reality came to mind as a possibility after seeing an example demonstrated at the Nebraska Education Technology Conference, NETA 2016. A multimedia contractor was consulted and offered a $20,000 solution. Faced with budgetary constraints, the program staff approached the UNMC eLearning Studio and Video Services staff. We were able to create the same solution using a freely downloaded app called Aurasma.
The process involved recording a video message in the eLearning lab using a Mac Book Air's built-in web camera. This method was chosen specifically to model using a tool most of the students would have access to, a laptop. Audio quality was enhanced by using an external microphone to capture a high-quality audio file. The audio and video were minimally edited in iMovie and exported as a .mp4 file.
Using the free Aurasma App, an account was created and hosted by the company free of charge. A single page PDF was created to serve as the contest announcement. This doubled as an augmented reality trigger or marker to notify Aurasma to perform an action, in this case, play the video. The video detailed much more information than what would be possible on a standard 8.5 x 11 sheet of paper.
Using the Aurasma app and focusing a mobile device's camera on the PDF, students were able to see and listen to program staff detailing the contest details and have an example of the expectations.
Speaker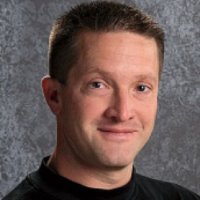 Mike Kozak, MEd
Information Technology Services